Your 3 Card Tarot Reading
Whats in the cards? Shuffle the deck to find out!
The wisdom of the Tarot is presented below. You may want to save or print this page if you would like to ponder its wisdom later.
Past
Refers to recent events that just took place as well as influences and actions that lead to the present situation.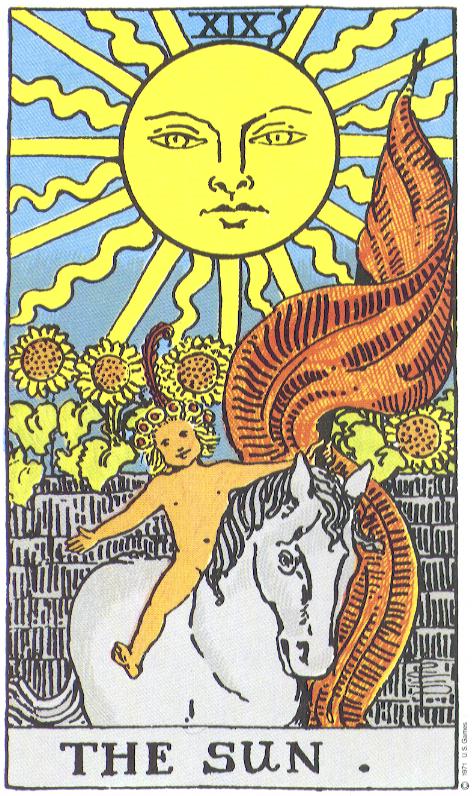 The Sun
The Sun is the twentieth card in the Major Arcana, and is given the number 19 to indicate the conscious mind represented by the Magician (1) reaching the self-actualized state of the Hermit (9). A golden-haired child rides bareback on a pure white horse, carrying a red flag. This child is reminiscent of the one who held the flowers up to death, now riding the same white horse of purity, but carrying a red flag instead of a black one, indicating vitality and passion. The child is reborn. The only item the child wears is a headdress, topped with a feather, which symbolizes truth. The Egyptian goddess Ma'at wears a feather on her head—a feather that is used to weigh the souls of the recently deceased to determine if they are worthy to join the Gods in the afterlife. The sunflowers all turn toward the child, denoting that this is truly a child of the Light, as sunflowers are known to turn toward the sun for sustenance. The sun itself shines down on the scene in all its splendor, giving warmth and light to all living things.
The Sun in your past signals a personal rebirth. It indicates a time when you felt light returning to your life. Obstacles were surmounted, filling you with a new sense of happiness. This card can indicate that some money problems that were solved. The wealth you experienced may have been a new relationship, a new career, or a new feeling of health after a bout with illness. The Sun can also indicate a time when you received a proposal of marriage. Overall, this card indicates a time when you experienced pure joy.
Present
Represents what is happening right now. This may be what triggered you to seek out a reading or may represent something you're unwilling to see.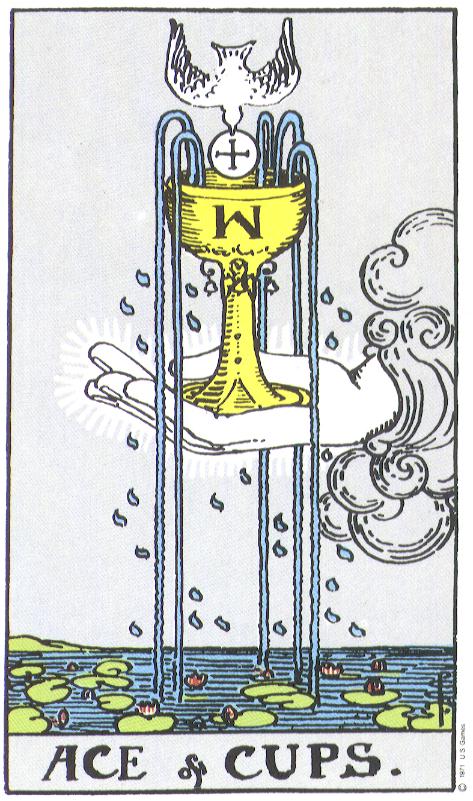 Ace of Cups
The Ace of Cups in your present situation suggests that you are experiencing a wellspring of emotions, especially love. Perhaps you are in the process of finding a new love interest, or discovering renewed feelings in a relationship you already have. The dove, representative of spiritual love, symbolizes the depth to which this emotional renewal is touching you. It has given you a new emotional perspective. The water flowing from the cup suggests that your emotional being (represented by the water below) is becoming recharged from this outpouring.
Future
Describes what is just around the corner. It's an official "heads up" about where the situation is heading.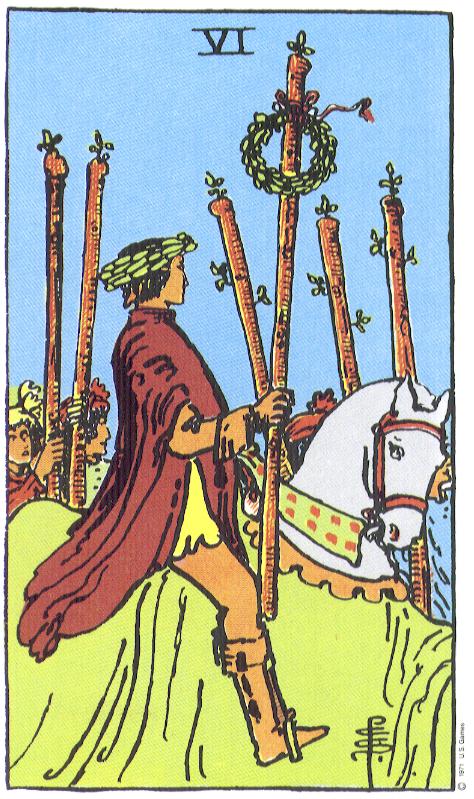 Six of Wands
Some congratulations will be in order! You will be crowned with the wreath of victory on some level, and while the end will be a while in coming, you will still ride high on your achievement. Your belief in yourself will be renewed, and others will be inspired by your success. Note how the crowd in the card seems to line the street as the man rides through them on his horse: those around you will support your efforts, and celebrate your triumph with you. Remember to take a bow!
We hope you enjoyed your reading. For a more personal analysis of your situation, call one of our gifted psychic phone readers below!
These Psychics are
Available

Now!

Click the "Call Now" button to connect to a real psychic right away!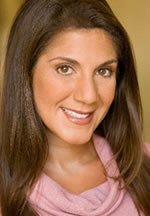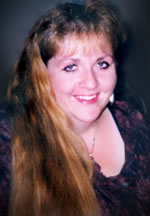 Honest, fast answers here to get to the heart of matters with you — [more…]

$7.99/min - First 3 Minutes Free!*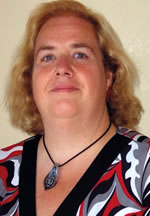 TESTED & CERTIFIED - HONEST yet gentle RELATIONSHIP EXPERT, non-judgmental. — [more…]

$5.99/min - First 3 Minutes Free!*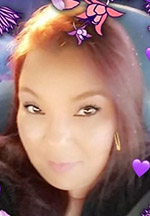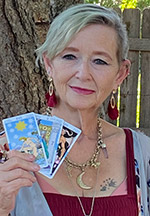 Genevieve wants to help you with life problems, love, money or general. — [more…]

$3.99/min - First 3 Minutes Free!*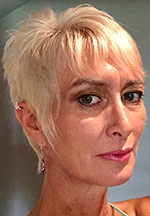 Michelle The Intuitive Reader — [more…]

$8.99/min - First 3 Minutes Free!*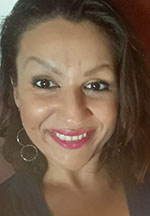 LOVE SPELLS CURSE REMOVAL GET WHAT YOU WANT TURN YOUR BAD LUCK IN TO PURE GOLD! — [more…]

$1.99/min - First 3 Minutes Free!*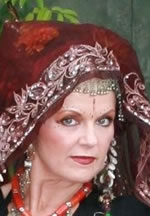 An internationally renowned relationship and soulmate expert for over 20 years! — [more…]

$3.99/min - First 3 Minutes Free!*
* Free minutes available only to first-time callers.
Reviews From
Satisfied Callers
Click Below to Read More!
I was concerned about advice I'd been given and Joy really gave me same thoughts and advice proving an accurate and honest reading to me. I felt so good after talking with her. — [more…]
This review is long over due. Pandora has been guiding me for years. Her encouragement, accuracy and connection with light has helped me to grow in my career and relationships. I've recommended her to friends and family and all have had the same experience. Thanks Pandora! — [more…]
Great advice about someone very important to me! It worked! Thanks for the love! — [more…]
Genevieve was so helpful to me. I was feeling confused and she pinpointed the root issue very quickly. Thank you so much, — [more…]
Great reader!! will call back :) my time ran out though last week wish i could have read longer. — [more…]