Your 3 Card Tarot Reading
Whats in the cards? Shuffle the deck to find out!
The wisdom of the Tarot is presented below. You may want to save or print this page if you would like to ponder its wisdom later.
Past
Refers to recent events that just took place as well as influences and actions that lead to the present situation.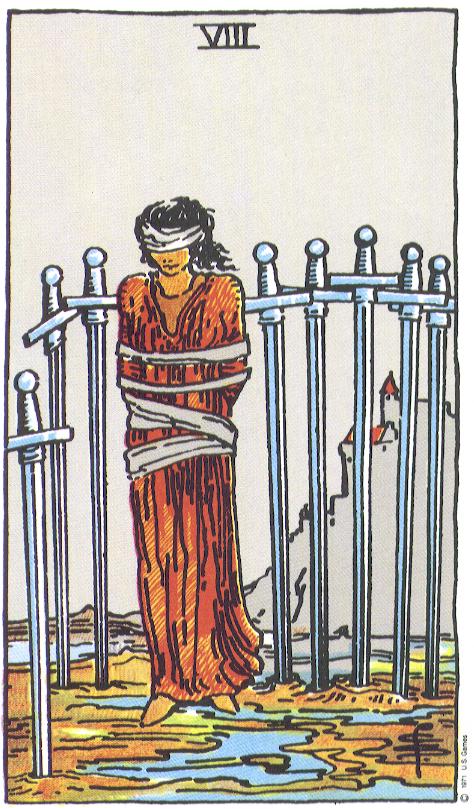 Eight of Swords
Oppression is symbolized by the Eight of Swords. You felt trapped and alone, unable to see your way through to a solution. The castle in the background suggests the authority figure that you felt was keeping you down. The swords are the opposition that kept you from moving. Look closer. Could you have been the one keeping yourself there? Notice that the woman in the picture does not have her feet tied,nor are the swords blocking her way. You were free to go all along. The oppressor in your life may have actually been real, but you gave away your power.
Present
Represents what is happening right now. This may be what triggered you to seek out a reading or may represent something you're unwilling to see.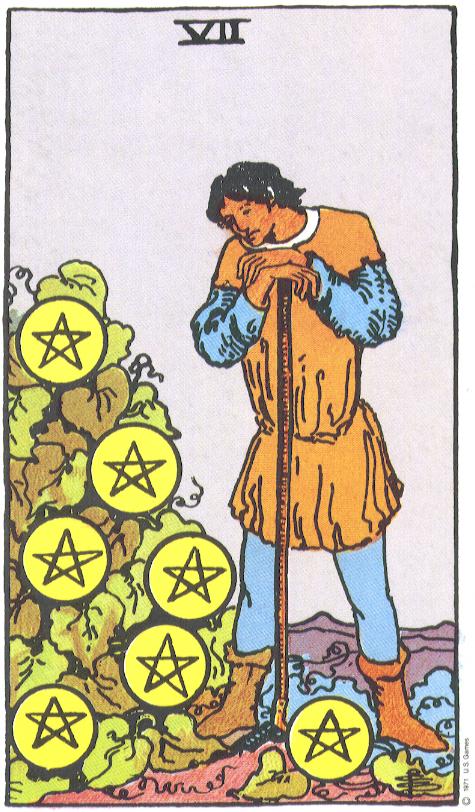 Seven of Pentacles
The Seven of Pentacles represents a sense of dissatisfaction that you feel with the results of a project that you've recently completed, either in the workplace or in your personal life. What you have planted is bearing fruit, but not quite to your satisfaction. Despite the less than satisfactory results, you are glad that the project is over. You're grateful that you now have time to relax, but feel that you could have done more. There is much to be thankful for. You have created something that has a life of its own, and it will continue to grow. This card can often be a warning against perfectionism, and a sign that you must sometimes step back and let go.
Future
Describes what is just around the corner. It's an official "heads up" about where the situation is heading.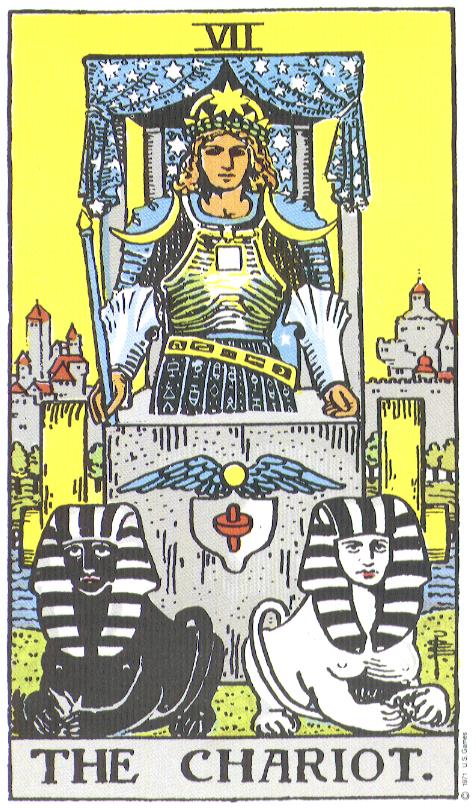 The Chariot
The Chariot is the eighth card in the Major Arcana, and is given the number 7, whose Qaballistic significance is victory. The number seven is also commonly associated with good luck. An armored man stands in an elaborate chariot, drawn by two sphinxes. One black, one white, they symbolize the positive and negative forces the charioteer has learned to balance and integrate. Above his head, a canopy of stars, indicating his travels beyond the mundane world. The crescent moons on his shoulders—one smiling, one frowning—denote that he has done the same with the gamut of his emotions. His armor shows that he is ready for physical challenges and his sceptre symbolizes his status and control.
The Chariot in your future indicates that you will celebrate victory over the extremes in your life through balance, self-control, and the enforcement of your True Will. It can indicate success in the battle against old patterns and vices. By grounding and centering yourself, you will get a handle on your situation. Remember to mentally take the reins. Utilizing the power of your mind, you will successfully chart the course to your goals.
We hope you enjoyed your reading. For a more personal analysis of your situation, call one of our gifted psychic phone readers below!
These Psychics are
Available

Now!

Click the "Call Now" button to connect to a real psychic right away!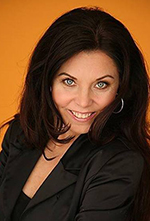 PSYCHIC MEDIUM TO THE STARS! — [more…]

$8.88/min - First 3 Minutes Free!*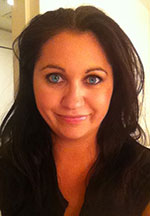 Certified Angel Oracle Card Reader / Psychic / Spiritual Healer — [more…]

$7.99/min - First 3 Minutes Free!*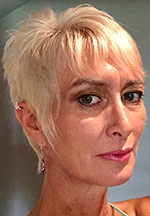 Michelle The Intuitive Reader — [more…]

$8.99/min - First 3 Minutes Free!*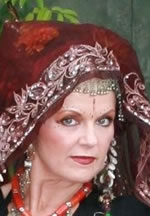 An internationally renowned relationship and soulmate expert for over 20 years! — [more…]

$3.99/min - First 3 Minutes Free!*
* Free minutes available only to first-time callers.
Reviews From
Satisfied Callers
Click Below to Read More!
Very intuned with my situation. Thank you, Simon — [more…]
In 2011 I was having a ton of martial problems and called around 15 psychics to try and figure out my life direction. Again in 2022 I've been searching for answers and where my life is headed. Benita is the most amazing, accurate and best psychic I have ever contacted. She helped me figure out a huge problem that no other psychic saw or could give me answers to. I feel like Benita is now a part of my family. You will not regret calling Benita — [more…]
Great reader!! will call back :) my time ran out though last week wish i could have read longer. — [more…]
I had an amazing conversation with Sophia today. She confirmed things for me I have been feeling inside without my having to ask. She provided guidance on how to "up level" my spiritual experience and working with my guides or with my people as she likes to call them. This was not my first call with Sophia, I spoke with her many years ago and had the same amazing experience. If you need help with your spiritualism and confirmation of happenings around, this is your girl! Thank you Sophia, I can't wait to speak to you again. — [more…]