Have you found your soulmate? What's on your lover's mind? Are you on the right path in your career? Call Charli Haynes and get the answers you need!
Charli Haynes
Get a Free Three Minute Reading with Charli!
*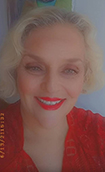 Charli Haynes has been doing Clairvoyant readings since 1985. Coming from a Croatian backround, her mother was a professional dream interpreter/psychic. You can say Charli was born into the world of the mystic.
Charli's readings are clear, concise, down to earth, yet nurturing & inspiring. She focuses on career, love and your soul purpose in life. Charli's also an animal communicator & past life reader.
Charli looks forward to reading for you & helping you down your unique, individulized path.
Education and Experience
Charli has taught meditation & psychic development courses at The Learning Tree in Los Angeles, California.
She has experience in person to person & phone readings as well as readings for events/private parties.
Charli has appeared on "Hollywood Live" as a psychic & done in person readings on the show.
She has many years of experience as a phone psychic as well as email/chat readings.
Charli spent quite a few years on the Dionne Warwick's psychic line during the 1990's as well.
She taught psychic/intuitive development at the "Wishing Well" in Murietta, California.
Charli Haynes is
Available

Now!

Click the "Call Now" button to connect to Charli right away!

$3.99/min - First 3 Minutes Free!*
* Free minutes available only to first-time callers.
Praise For
Charli Haynes
Click Below to Read More!
I sense the sincerity in her reading. Thank you. I just have to accept it — [more…]
Great reading. Really connected with her. I found her insight to be helpful and calming. — [more…]
Alway's my favorite! She's been helping me through a tough time with me ex who is back and forth with me!! its been a roller coaster of emotions but looking forward to seeing her predictions come through-- not sure what it is but she can really "Tune in" to my ex! It's Crazy & Cool!!!! — [more…]
She is amazing!!!! Will call back, got cut off a few times had to call back in. After my call i felt really positive about the my situation ( relationship ) and felt a sense of ease and felt calmer than i was in the past two weeks! She has a very soft and caring voice! Will call back soon!!! <3 — [more…]