Have you found your soulmate? What's on your lover's mind? Are you on the right path in your career? Call Sophia Elise and get the answers you need!
Sophia Elise
Get a Free Three Minute Reading with Sophia!
*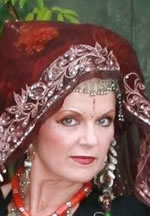 Sophia is an internationally renowned five star relationship and soulmate expert, intuitive life strategist and Master Psychic. Sophia will tell you where your relationship is headed or if your significant other is returning. She will also guide you on steps you can take to make sure your relationship fulfills your expectations. Sophia can help get your relationship on track so you can create and maintain the relationship you desire and deserve. Sophia is descended from a very long multi-generational ancestral bloodline. Initially tutored by her Welsh-Romani great-grandmother, she has studied metaphysics, the Tarot, meditative dynamics, ancient religions, philosophy and the mysteries of the universe for over 30 years.
Some typical questions you may ask:
• Where is my current relationship going?
• Am I with my soul mate?
• Why is there so much chaos in my life?
• What is my life purpose and why am I here?
• Is my financial situation stable?
Sophia has over 30 years experience with an international clientele helping them identify and remove blockages and obstacles keeping them stuck and preventing them from achieving their full potential in life, love, and career. Sophia can help you see the blockages in your life so you can can blast past what is holding you back from living the life you want to live.
She has studied metaphysics, the tarot, and comparative religions for over 30 years. Sophia is CLAIRVOYANT, CLAIRSENTIENT, EMPATHIC, and INTUITIVE and uses the TAROT as a tool to higher consciousness. Sophia is also a medical intuitive, Reiki Master and Silva Mind Control graduate who can locate energy blockages that lead to disease within the physical body.
Call her today - together you can find the best path for your own personal happiness on your journey through life.
Education and Experience
PROFESSIONAL QUALIFICATIONS:
Two undergrad degrees and a masters degree
Two life coach certifications
Certified Reiki Master with over 20 years experience
Certified with Silva Method Systems, completing both the Intuition System and Ultra Mind System Psychic Training programs
Certified in Neurolinguistic Programming (NLP)
Member National Association of Professional Women
Sophia Elise is
Away

Right Now.

But you can arrange a call back and your phone will ring when Sophia becomes available!

$3.99/min - First 3 Minutes Free!*
* Free minutes available only to first-time callers.
Praise For
Sophia Elise
Click Below to Read More!
I had an amazing conversation with Sophia today. She confirmed things for me I have been feeling inside without my having to ask. She provided guidance on how to "up level" my spiritual experience and working with my guides or with my people as she likes to call them. This was not my first call with Sophia, I spoke with her many years ago and had the same amazing experience. If you need help with your spiritualism and confirmation of happenings around, this is your girl! Thank you Sophia, I can't wait to speak to you again. — [more…]
Sophia is just amazingly talented and she always helps me see the best out of my situation — [more…]
Love love love the way Sophia Elise puts things in perspective and helps me see a path through the tough times. Awesome! Thanks! — [more…]
Thanks for the breath of fresh air! I haven't had the chance to talk to you much lately but this was what I needed today! Thanks so much. — [more…]