Have you found your soulmate? What's on your lover's mind? Are you on the right path in your career? Call Angelina Merino and get the answers you need!
Angelina Merino
Get a Free Three Minute Reading with Angelina!
*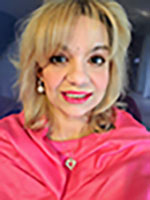 Mrs. Angelina Merino is a Psychic Reader & Love Specialist who specializes in love and relationship readings. She is very helpful in times of not knowing where your love life is going.
Mrs. Angelina Merino is able to tell you everything about the one you love. Contact her today for the best love reading.
Education and Experience
Psychic & Love Specialist Angelina Merino has reunited hundreds of relationships with her blessed gift since 2008. She specializes in couples/marriages that are not communicating, with no calls or text messages.
Angelina Merino is
Away

Right Now.

But you can arrange a call back and your phone will ring when Angelina becomes available!

$4.99/min - First 3 Minutes Free!*
* Free minutes available only to first-time callers.