Have you found your soulmate? What's on your lover's mind? Are you on the right path in your career? Call Matt Hawkmoon and get the answers you need!
Matt Hawkmoon
Get a Free Three Minute Reading with Matt!
*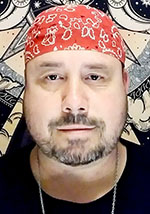 Matt is an honest, gentle, Psychic Intuitive Empath and nonjudgmental reader with a lifetime background in Core Shamanism. Born with what his ancestors call "the sight", he can provide clear answers to your questions about Love, Life Path, career, and Spirit path. He will not bog down the reading with metaphysical obscurities or archaic language. He has a deep sense of ethics and he operates under the Golden Rule and the principle of non harm. He sometimes include the use of tools like, Runes, and cards as he is a Master Rune, Tarot, and Oracle Reader. His highest goal is to provide you answers that help you to grow and change. This is the way of his ancestors and elders, whos spirits still call out to him through windy mountain pines...
Education and Experience
* Certified Spiritual Life Coach
• Certified Meditation Coach & Facilitator
• Ordained Minister through the Universal Life Church
• 10 plus years of professional experience
• Master Rune, Tarot, and Oracle reader (over 12,000 hours in live session)
• Top Rated and Top Accuracy
Matt Hawkmoon is
Away

Right Now.

But you can arrange a call back and your phone will ring when Matt becomes available!

$4.99/min - First 3 Minutes Free!*
* Free minutes available only to first-time callers.