Have you found your soulmate? What's on your lover's mind? Are you on the right path in your career? Call Lillian Allbright and get the answers you need!
Lillian Allbright
Get a Free Three Minute Reading with Lillian!
*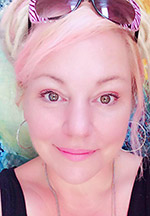 Greetings! I am able to communicate with my spirit guides, angelics, & guardians. I can assist you with most questions you may have for your guides, as well as offer guidance if you are feeling lost or stuck. I'm a real person with a real connection to the spirit world around us. I've always had this connection but it has become so strong over the past years. Many are waking up to their own psychic abilities at this time and I'm here to help you establish a strong connection so you can learn to tap in on your own. I'm looking forward to talking with you!
*My sessions are not like "as seen on t.v." I am not a fortune teller. Once we are connected, you can tell me whatever issues you have going on and needing guidance for- or we can discuss your past lives or messages from your angelics! But I want to stress that I am somewhat of an introverted person and as we are talking, my guides start telling me things about you, your situation, or answers to Q's you may have. I will also ask you to give me permission to connect to your energy and your spirit team that surrounds you. Please do not rapid fire me with yes and no questions as fast as you can in 2 minutes. I will answer them for you in that style if you wish but you will not get the most out of your session in this way.
Education and Experience
I had an awakening experience in 2015. My life completely changed! My personality completely changed. I suddenly stopped smoking, drinking alcohol, drinking caffeine, eating animals... I came off prescription drugs for depression & anxiety. I started meditating and opened a doorway in which I became able to talk to my spirit guides. I started seeing spirit all around me. "ghosts" if you will. I've learned to tap into and communicate with what we call spirit guides, angels, and other dimensionals. I've no fancy affiliations, just a deep connection to spirit for which I am profoundly grateful.
Lillian Allbright is
Away

Right Now.

But you can arrange a call back and your phone will ring when Lillian becomes available!

$2.22/min - First 3 Minutes Free!*
* Free minutes available only to first-time callers.