Have you found your soulmate? What's on your lover's mind? Are you on the right path in your career? Call Dawn Discenza and get the answers you need!
Dawn Discenza
Get a Free Three Minute Reading with Dawn!
*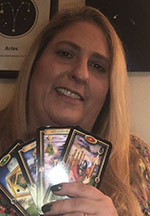 Tarot readings can be on the topic of your choice. Dawn will use varying spreads that fit the topic or question. The least or mini reading will be a 2 or 3 card reading. Celtic Cross spread is available. Specialize in self growth, spirituality as well as love or relationship readings. General readings are wonderful to look at what current life situations are happening or may need work. Dawn truly loves to help others the best she can through help of the cards, energy exchanges and her spirit guides.
Education and Experience
Dawn Discenza has a BA in psychology and also an MA in mental health counseling. She has worked in the mental health field for over 20 years and is licensed in the state of North Carolina.
Dawn has been working with Tarot for years and recently began conducting readings professionally.
Her abilities include clairsentience as well as clairaudience. So maybe a loved one will come through for you!
Dawn Discenza is
Away

Right Now.

But you can arrange a call back and your phone will ring when Dawn becomes available!

$2.99/min - First 3 Minutes Free!*
* Free minutes available only to first-time callers.