Have you found your soulmate? What's on your lover's mind? Are you on the right path in your career? Call Angel Griffin and get the answers you need!
Angel Griffin
Get a Free Three Minute Reading with Angel!
*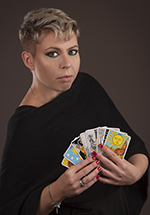 A second generation Salem Witch, and natural born Medium, She was born with deep roots in the Spirit World and has spent more than two decades practicing her craft and helping friends and strangers alike with messages from Spirit and Ancestors. Angel specializes in Tarot and Mediumship. She uses her natural clairvoyance to insure your path becomes clear. Call today and discover what your path has in store for you!
Education and Experience
Angel hails from Salem, Massachusetts and is a second-generation Salem Witch. She was trained by her mother, Becci Black, her uncle Christian Day, and other mentors in the Witch community throughout her journey.
Angel Griffin is
Away

Right Now.

But you can arrange a call back and your phone will ring when Angel becomes available!

$4.99/min - First 3 Minutes Free!*
* Free minutes available only to first-time callers.