Have you found your soulmate? What's on your lover's mind? Are you on the right path in your career? Call Kristen Cappucci and get the answers you need!
Kristen Cappucci
Get a Free Three Minute Reading with Kristen!
*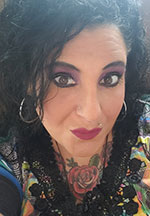 Kristen Cappucci is a native of North of Boston, MA. She has been a Psychic Medium since birth and knew her Intuitive gifts at a young age. Her empathic abilities with her remote senses can pick up on past, present, and future events. She specializes in one on one personal readings, phone, and email on topics from love to career and beyond! She also does Spirit Galleries that connect a room of people to loved ones on the other side. Also she uses her gifts in the Paranormal Field doing in home investigations, identification of hauntings, to remote viewing from afar. She has appeared on TV and Radio in the United States and abroad. She has studied and taken teachings in many metaphysical topics that come natural to her. To name a few Astrology, Crystal Healing, Candle Magic, Essential Oils for Healing, Scrying, and Seance work. Her personsal background is Italian with Sicilian roots with a grandfather who was a seer like Edgar Cayce. Also a Russian, Portuguese and French side with many gifted relatives. She has studied many world religions and a love for cultures and people of all ages. She has done volunteer work with animals and also can communicate with animals on the other side from a small mouse to an iguana!! She is a mother of 2 children and 3 pet fancy rats!! Her work background is in the Travel Industry and a college intern in Disney World. Also many years in the medical field working with patients. Her future plans are to continue work with clients, work fairs and benefits, to Death transition work. Would like to be available to families in crossing over techniques and fears that exsist with the stigmas of Dying.
Kristen Cappucci is
Away

Right Now.

But you can arrange a call back and your phone will ring when Kristen becomes available!

$4.99/min - First 3 Minutes Free!*
* Free minutes available only to first-time callers.