Have you found your soulmate? What's on your lover's mind? Are you on the right path in your career? Call Craig Michael Mayotte and get the answers you need!
Craig Michael Mayotte
Get a Free Three Minute Reading with Craig!
*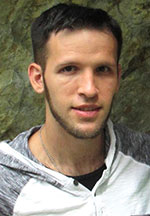 Craig Mayotte is a practicing Salem Witch and Psychic Medium with the gift of majick and Witchcraft as a tarot reader he can help answer life's most compelling questions and give time proven answers. He has trained in the Cabot Tarot Course with Laurie Cabot (The official Witch Of Salem ). And has learned witchcraft from Julie Sims owner of Julie's Cauldron.he has also taken many classes from Hex education via crowdcast
Education and Experience
Craig Mayotte studied Art and photography at RISD in Providence, Rhode Island, has attended online school at NewSchool of Fashion in New york city to learn the art of Styling and Branding. He currently signed up for an organization called #cut50 which helps as an effort to cut crime and incarceration across all 50 states. Craig donates a portion of his earnings to Salem Saves Animals a non profit organization to help end the cruelty of animal abuse. Craig Donates also to a youtuber by the name of Stephi Lee who was born with Cystic fibrosis commonly known as CF. by calling Craig your supporting 3 major organizations that he cares for deeply
Craig Michael Mayotte is
Available

Now!

Click the "Call Now" button to connect to Craig right away!

$5.00/min - First 3 Minutes Free!*
* Free minutes available only to first-time callers.
Praise For
Craig Michael Mayotte
Click Below to Read More!
I have called Craig Michael several times regarding a relationship issue that has been causing me stress. The first reading was very direct with a precise timeline of two weeks. He was exactly right. Another reading he gave me told me that my person would come back after being on a boat and open up to me. Again, that is what happened. Not only does he have a gift but he also offers me suggestions ( candle work for love and banishing negative energies)and insights as to how to handle the situation , which so far seems to be working! I'm truly amazed! I just spoke to Craig Michael again on Monday July 13 and I was given another timeline of milestone events he saw coming to fruition concerning my relationship in mid- late summer. (July/Aug)This would involve a boat trip with my person in question as well as a glimpse of a more distant future of a house. I look forward to updating this review! On a personal level Craig Michael is very sweet and understanding of my situation and although my answers happened to be the ones I wanted, I do believe he would absolutely tell me if they were not. He has been a great help to me and I look forward to speaking with him again. I would highly recommend Craig Michael to anyone needing insight and clarity. — [more…]