Have you found your soulmate? What's on your lover's mind? Are you on the right path in your career? Call Mimi Eubanks and get the answers you need!
Mimi Eubanks
Get a Free Three Minute Reading with Mimi!
*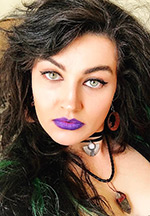 Appalachian Granny Witch hailing from Winston-Salem, Mimi Eubanks is gifted in more ways than one. She uses her intuitive abilities to read the Tarot to provide you with answers to all of your questions. A trait handed down to her by her great grandmother, she has worked with the cards for over 15 years.
The marvelous Mimi comes from a long line of psychics, and she learned of her gifts at an early age. She has the ability to easily pick up on emotions and qualms through her empathic nature, which in turn lets her see though facades to get to the raw truth. Her kindhearted nature and humor make her easy to talk to, like sitting with an old friend. Clients have described her as down-to-earth, endearing, and warm-hearted.
Mimi's gifts of psychic mediumship are a trait passed down from the women on her mother's side of the family. She chooses to use these gifts to help others, which she feels is her true purpose in life. Let Mimi help you!
Education and Experience
Mimi is a gifted psychic and medium with 15 years of experience. Mimi has the ability to read Tarot, interpret dreams, see auras, channel spirit, and use pendulums to communicate through spirit.
Mimi Eubanks is
Away

Right Now.

But you can arrange a call back and your phone will ring when Mimi becomes available!

$4.99/min - First 3 Minutes Free!*
* Free minutes available only to first-time callers.