Have you found your soulmate? What's on your lover's mind? Are you on the right path in your career? Call Jennifer Scott Smith and get the answers you need!
Jennifer Scott Smith
Get a Free Three Minute Reading with Jennifer!
*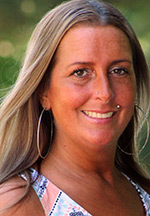 Lower rate for a limited time!
Jennifer Scott Smith has been practicing professionally for over 16 years. She is Clairvoyant, Clairaudient, Clairsentient, and Clairalient. She is also a Psychic Medium and can help you connect with passed loved ones. She sometimes uses tools such as Tarot, Pendulum, and the Bones to tap in and get further clarifications on certain people and issues.
Jennifer taps into your energy in order to provide accurate and heartfelt readings. Her goal is to heal, and also to provide growth opportunities and instructions for you and your life.
Education and Experience
Jennifer Scott Smith has a BS in Psychology and an MA in Clinical Counseling. She has been reading professionally for over 13 years. She is a Rosicrucian, Martinist, an Ordained Minister, a Hoodoo Rootworker, and a White Witch.
Jennifer Scott Smith is
Away

Right Now.

But you can arrange a call back and your phone will ring when Jennifer becomes available!

$6.99/min - First 3 Minutes Free!*
* Free minutes available only to first-time callers.
Praise For
Jennifer Scott Smith
Click Below to Read More!
Very informative call, and Jennifer made a prediction and provided a time frame. Thank you, from this other Jennifer Sagicorn!! <3 — [more…]
She very quickly centered in on what I was asking about. And when I wanted to move on and ask another question, she did stop and listen and moved onto the next topic. She didn't waste any time. — [more…]