Have you found your soulmate? What's on your lover's mind? Are you on the right path in your career? Call Annette Mckinley and get the answers you need!
Annette Mckinley
Get a Free Three Minute Reading with Annette!
*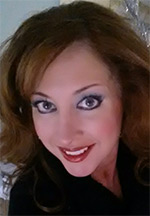 Annette McKinley is a natural-born intuitive and empath with over 30 years experience as a Tarot reader and astrologer. Her accurate readings are delivered in a kind, loving, and ethical manner with a down-to-earth approach. Annette can guide you on your healing path and give you the peace of mind you're seeking. She uses several card decks along with insights from her spirit guides to give advice regarding love, relationships, family, and business matters.
Education and Experience
Annette comes from a long ancestral line of intuitives out of New Orleans and was born with highly-developed senses. Her Creole and European grandmothers taught her to read Tarot cards at the age of 15. Annette continued to develop her skills under the mentoring of several Tarot and Reiki masters in the Midwest ever since. She uses the principles of Christianity, Wicca, Buddhism, and Voodoo as her foundation.
Annette Mckinley is
Away

Right Now.

But you can arrange a call back and your phone will ring when Annette becomes available!

$3.99/min - First 3 Minutes Free!*
* Free minutes available only to first-time callers.
Praise For
Annette Mckinley
Click Below to Read More!
AMAZING AS USUAL! I love this woman she's so honest, ethical and ofcourse spot on — [more…]
One of the most accurate, if not THE most accurate and impressive readings I've ever had. She was able to tell the person's astrological sign (trust me, I did not give her any hints) and described the situation very accurately. Last time I spoke to her was a month ago, will follow up in a few weeks. An amazing reader! Highly recommend — [more…]
I was surprised by her accuracy. She described the situation very clearly and truthfully. Hopefully what was predicted will come to pass and I will follow up in a short while. Will definitely be calling again. — [more…]