Have you found your soulmate? What's on your lover's mind? Are you on the right path in your career? Call Tony Parker and get the answers you need!
Tony Parker
Get a Free Three Minute Reading with Tony!
*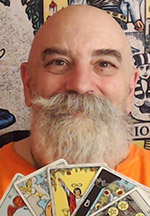 Do you need advice, support, help, and guidance for love, relationship, family, job, career, money, & relocation issues and challenges?
Then please let Psychic Tarot Expert & Psychic Spirit Medium, Tony Parker help you NOW!!
Honest and Accurate Psychic Tarot Readings & Spirit Mediumship since 1967 (54+ Years Exp.) to Help you Manifest your True Love, Twin-Flame, Soul-Mate, Happiness, Success, & Prosperity! Celebrity Psychic on TV & Radio. LGBT Non-Judgmental.
AWESOME AMAZING FREE BONUS GIFTS WITH EVERY READING!
Honest, accurate, clairvoyant Psychic Tarot Readings & Psychic Spirit Mediumship with Exact Time-Frames.
Tony Parker has been giving honest, accurate, clairvoyant, and clairaudient Psychic Tarot Readings & Spirit Mediumship with completely accurate time-frames since 1967 (53+ years!).
His Spirit Mediumship & Psychic Tarot Readings are based on astrological, numerological, qabbalistic, angelic correspondences, & magickal invocations.
Tony Parker has been practicing EFT (Emotional Freedom Techniques and Reiki to heal broken hearts and love-pain since 1996.
He has also been teaching and coaching "The Law of Attraction" and "The Secret" to help his clients attract and manifest their true love and soul-mate, happiness, prosperity, abundance, and success since 1999.
Tony Parker really enjoys helping his clients acquire clarity, psychic wisdom, and spiritual healing. His goal is to provide his clients with clarity, spiritual guidance, counseling, instruction, and coaching to overcome life's many challenges.
Tony Parker is available 7 days a week and He looks forward to the opportunity of being of service to you.
Education and Experience
I began my Psychic Tarot & Psychic Spirit Mediumship development at the age of 16 under the guidance of my Grandmother, a 3rd generation Psychic Tarot Reader. Psychic Spirit Medium, Astrologer, and Palm Reader. Ever since then, I have studied many Spirit Mediums, Tarot Card Masters, Psychics, and Healers. My "professional" career began as the result of a psychic visitation experience with the spirit of my grandmother in 1977. I have been giving face-to-face Tarot Card Readings & Spirit Mediumship privately in my personal studio, at psychic fairs, coffee shops, meet-ups, & workshops for over 54+ years.
Master Psychic Tarot Card Reader - 1967
Reiki Master - 1996
Master EFT (Emotional Freedom Techniques) Practitioner - 1996
Law of Attraction "SoulMate" Dating Coach and Instructor - 1999
TV and Radio Appearances:
8/10/2015 Mon WKCR Radio Gary Bishoff & Chris Acosta interview Tony 'The Tapper' Parker
10/24/2014 "Let's Live" TV Thurman Greco Interviews Tony-Guy Parker on Woodstock PAC 23
9/24/14 LifeScape Radio - All About EFT - with Guest Tony-Guy Parker! Plus Readings!
08/01/14 Intention Radio - Tap-Tap-Tapping in The Light! Emotional Freedom Technique (EFT) Linda Gulak Chasteen with Tony Guy Parker
6/27/14 LifeScape Radio - Tony-Guy Parker Guest Hosts on The Rowdy Readers Radio Show!
04/25/14 Kooch Daniels & Staff Psychic Tony-Guy Parker Guest host the Dax Has Your Number Radio Show!
Past workshops, teachings and healings:
2003-2006 "The Arts Society of Kingston" (Kingston, NY)
2009-2011 "The A.I.R. Studio Gallery" (Kingston, NY)
2011-2012 ( "The Awareness Shop" New Paltz, NY)
2010-2013 "Whispered Dreams"(Stone Ridge, & Kingston, NY)
2012-2014 "The Healing Arts Studio" (Newburgh,NY)
2012-2013 "The Wellness Center of Hyde Park" (Hyde Park, NY
2014-2017 "Family of Woodstock" (Woodstock, NY)
Tony Parker is
Away

Right Now.

But you can arrange a call back and your phone will ring when Tony becomes available!

$2.99/min - First 3 Minutes Free!*
* Free minutes available only to first-time callers.
Praise For
Tony Parker
Click Below to Read More!
Another great reading with Tony. Will follow his recommendations and will be calling back soon to follow up. Thank you! Irina — [more…]
Tony, thank you for the fantastic reading yesterday. You described the situation very clearly and I really liked that you told me what cards came up, since I know the cards a little bit too. I am looking forward to the nearest future to see if the predictions come true and I'll definitely be calling you again. You are very kind, compassionate and caring. A pleasure to speak to. Thank you! — [more…]