Have you found your soulmate? What's on your lover's mind? Are you on the right path in your career? Call Elie Barnes and get the answers you need!
Elie Barnes
Get a Free Three Minute Reading with Elie!
*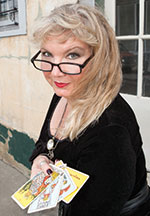 Elie Barnes is a powerful clairvoyant psychic who uses Tarot and Astrology to help you connect with your deepest desires and turn your dreams into reality. Elie was born into a family of rootworkers and exposed to Hopi medicine, Appalachian Witchcraft, and psychic readers/healers at a very young age. She has read Tarot since she was 17 years old, and has spent the past 15 years studying many alternative forms of divination. She combines all these tools with the power of her mind to help her clients through the fog of the mundane, so they can reach clarity and develop a plan for the future. Call on Elie for questions about your love life, your career path, and finding the answers that you seek.
Education and Experience
Elie attained her bachelor's degree in philosophy and comparative religion, and has been a professional astrologer and tarot reader for over 40 years. Her special areas of study include Hermetics, psychic protection, dream interpretation, herbalism, and astrological readings. She currently resides in New Orleans, and uses the strong energy of the Crescent City to connect to the world of the spirit.
Elie Barnes is
Away

Right Now.

But you can arrange a call back and your phone will ring when Elie becomes available!

$3.99/min - First 3 Minutes Free!*
* Free minutes available only to first-time callers.