Have you found your soulmate? What's on your lover's mind? Are you on the right path in your career? Call Marilyn Peters and get the answers you need!
Marilyn Peters
Get a Free Three Minute Reading with Marilyn!
*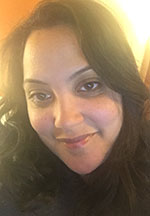 Marilyn, a Taurus has a background in the healthcare field and she is a single Mother of a wonderful 8 year old boy, as well as being a psychic. Marilyn is a Clairaudient , Clairsentient, Clairvoyant, Spirit, and Angel healer. She realized her psychic gift as a teenager, a gift she inherited from her grandmother, who was also a psychic. Marilyn has been practicing her psychic reading skills for 25 years.
Education and Experience
Qualification:
At an early age, Marilyn developed her skills interpreting visions and being an angel guide. She enrolled in Angel therapy school to further develop her skills. Angel is a Reiki Master, angel Healer and certified Angel therapy Practitioner. She has used these skills to let the angels guide her to people who need her help, and to help improve their lives.
Specialty:
Marilyn's specialties include Love & Relationships and Careers and Jobs. She does
Angel Card and Tarot readings, rune castings, healings and she has her late hubby who is her spirit guide to help her along the way.
Services offered :
Tarot Card Readings
Angel Card Readings
Angel intuitive Readings
Angel Reiki Healing
Crystal Healing
Chakra Healing
Angel Reiki 1, 2 & 3 Classes
Tarot Card & Angel Card Reading Classes
Connecting with your Angels Classes
Marilyn Peters is
Away

Right Now.

But you can arrange a call back and your phone will ring when Marilyn becomes available!

$3.99/min - First 3 Minutes Free!*
* Free minutes available only to first-time callers.
Praise For
Marilyn Peters
Click Below to Read More!
I can talk to Marilyn about my deepest intimacy problems and questions even more than I can with close friends. Everything she says, over the span of a few years now, has always been on point. I feel blessed to be able to have her advice and guidance. Worth every penny — [more…]
Great reader!!! will read again- picked up alot of stuff on me and my ex <3 — [more…]
Takes too long with the cards. She's often more incorrect than correct. — [more…]
Thank you for the reading. Very detailed and accurate for the short time I had, that's all I could afford for now. — [more…]