Have you found your soulmate? What's on your lover's mind? Are you on the right path in your career? Call Tommy Ross and get the answers you need!
Tommy Ross
Get a Free Three Minute Reading with Tommy!
*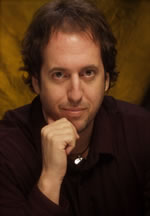 Fun and accurate Tarot card readings from a 20-year experienced reader and teacher. Love and career specialties, any question or subject can be asked and all matters are handled with the utmost discretion. Divination spreads for the future can be read for any time period you choose.
Education and Experience
Considered Southern California Desert Cities #1 Tarot card and teacher, Tommy's many regular clients have come to count on his reliable readings and straight forward approach. Consistently receiving five-star reviews, Tommy is featured on several leading phone networks and internet sites.
Tommy is also a successful teacher and the author of Southern California's only professional certification course of it's kind, paying strict attention to the original Golden Dawn planetary and astrological correspondences. Since 2011, Tommy has certified scores of new Tarot card readers, many of which went on to paying gigs and professional opportunities.
Tommy lives in Palm Springs and stays busy reading and teaching. He just released his first E-book Tarot Essentials Vol I, a collection of 40 unique articles written for blogs during 2011-2013.
Tommy Ross is
Away

Right Now.

But you can arrange a call back and your phone will ring when Tommy becomes available!

$2.99/min - First 3 Minutes Free!*
* Free minutes available only to first-time callers.
Praise For
Tommy Ross
Click Below to Read More!
Thanks for the great reading ðŸ'ðŸ» — [more…]
Great reading!!! Will read again <3 Thank you. Picked up on some stuff, crazy how he knew I was on the east coast when i didnt even tell him!!! :D — [more…]
Isn't my first reading with him. I've had plenty and he's always accurate with timelines and outcomes. I will continue receiving his services — [more…]
I cannot rave enough about Tommy. I had 3 readings with him and he was always spot on. Tommy said I would hear back regarding a job offer within 72 hours (I have to admit I did not believe him as it was 2 weeks since I have heard anything and they seemed to drag their feet). Within 48 hours I had an offer from the job. I would highly recommend Tommy. He is accurate, professional, and compassionate, and very fast . — [more…]