Have you found your soulmate? What's on your lover's mind? Are you on the right path in your career? Call Shanti Skelly and get the answers you need!
Shanti Skelly
Get a Free Three Minute Reading with Shanti!
*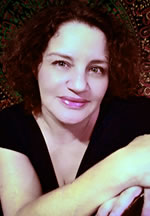 In Hindu Shanti means "peace" She strives to embody her name Through her maternal lineage, Shanti has been blessed with many spiritual gifts including, but not limited to, psychic clairvoyance, medium and energy healing.She sees, hears, feels, and heals.
Each time Shanti does a reading for someone always mindful just how blessed she is to have these abilities, the connection with other realms guided by Spirits and the ability to help others. Shanti's greatest passion is to bring peace to her clients to the best of her abilities. With her knowledge of the different cultures of the world, each of Shanti's readings is tailored to the specific individual and is unique. She considers herself a bridge on many different levels.
While she always provides what she has received from the Spirits, She never sugarcoats or says something just because it is what her client wants to hear. You will get the direct answer. She will share the information as to what has been shown to her; the rest is up to you.
Her kind and compassionate nature will understand your needs and guide you, to the right path of happiness and prosperity. Shanti believes that the future is not etched in stone. Each choice or decision that one makes can change the path that is taken. She is often described by her clients as a sensitive, empathic and a life and spiritual guide.
Namaste
Education and Experience
40 plus years in the paranormal, metaphysical field, Psychic reader, Tarot card, Medium,
Shanti Skelly is
Away

Right Now.

But you can arrange a call back and your phone will ring when Shanti becomes available!

$4.99/min - First 3 Minutes Free!*
* Free minutes available only to first-time callers.
Praise For
Shanti Skelly
Click Below to Read More!
Great reader!!!!! we really connected <3 look forward to reading again — [more…]
AMAZING!!! Shanti is such an amazing, compassionate, understanding, intelligent, Empathetic, extremely Gifted and Accurate, Psychic, Tarot reader and friend!! She shines bright like a brilliant Diamond, She's a life Saver and I Love her!!! Thank you so very much for everything Shanti and Thank GOD for you!!!! Love you Always, Danna — [more…]
Shanti is an extremely gifted and accurate psychic/tarot reader. She's such a beautiful, helpful and empathetic soul! Thank you so much for All of your help Shanti!!! Love you!!! Danna — [more…]
Always puts you at ease with her sense of humor and kind advice! Thank you Shanti! — [more…]