Have you found your soulmate? What's on your lover's mind? Are you on the right path in your career? Call Charity Bedell and get the answers you need!
Charity Bedell
Get a Free Three Minute Reading with Charity!
*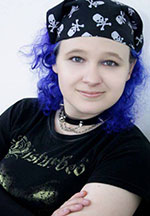 Need guidance about work or home?
Unsure of your direction and where to go next in your life?
Are you unsure of your relationship status?
Do you have health issues you are trying to pinpoint?
Are you looking for a change? Are you looking to see what the future holds?
Charity Can help you find the answers you are looking for and provide advice on how to achieve your goals and desires. From love to work and family matters with what she sees Charity can guide you to your answers and obtaining the future you desire.
Education and Experience
Practicing Witch for 25 years
Naturally Intuitive
Owner/Operator Mystic Echoes a small handcrafted metaphysical supply shop
Co-Author of The Good Witches Guide A modern day Wiccapedia of Magickal Ingredients and Spells
Author Pagan Business Network Blog
Initiate 2nd Degree Temple of Witchcraft
Charity Bedell is
Away

Right Now.

But you can arrange a call back and your phone will ring when Charity becomes available!

$3.99/min - First 3 Minutes Free!*
* Free minutes available only to first-time callers.