Have you found your soulmate? What's on your lover's mind? Are you on the right path in your career? Call Christina Manning and get the answers you need!
Christina Manning
Get a Free Three Minute Reading with Christina!
*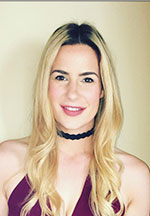 Christina Manning has been seen all over the world giving professional psychic readings for 15 years. She started getting visions at 14 years old that would appear in her mind's eye moments before it would happen in real time. Shortly after that, she started giving detailed future predictions to her friends and family. At 18 years old, her Mother, also a psychic, pulled her aside to explain to her that the things she was experiencing were actually a natural born gift. After that, she began traveling the world to give readings.
Christina's readings are very detailed and accurate. She will also give you specific timeframes. She is an empath, so she can describe to you how he/she is feeling in real time. Christina is a tarot card master, and can also read your tarot cards if requested.
Education and Experience
Over 15 years of professional experience.
Christina Manning is
Away

Right Now.

But you can arrange a call back and your phone will ring when Christina becomes available!

$5.99/min - First 3 Minutes Free!*
* Free minutes available only to first-time callers.
Praise For
Christina Manning
Click Below to Read More!
One of the best readings I've ever had on this site. Christina picked up on my situation quickly and accurately and was able to disclose such specific details I felt even more comfortable adding more money to continue speaking with her. I will absolutely be calling her back. She was also incredibly kind and reassuring and never once questioned why I would ask certain questions and care to know certain details, which I have found some others on this network do. Thank you for all of your patience and guidance thus far! :) — [more…]