| | |
| --- | --- |
| | |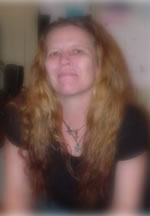 Miranda has been giving readings long before the internet was the means of reaching people. She provides accurate and honest readings. Questions about love, career, pets, finances, family, lost articles and more. She is here to answer these and any other questions you may have. You can rest in knowing she will provide clarity to any situation you may be faced with.

Miranda's clients have come from all walks of life and her suggestion to them all is that they write down the predictions she makes so they can refer back to the reading. The reason her clients return to her on a regular basis is simple, her predictions come true!

She will Look into your situation and relay only what the guides tell her. They decide what's important and sometimes she will say things that appear unrealistic yet if you write down what she says you will see the importance of it later.
She will not guess an out come or give her personal opinion. Anything she tells you will be what the spirit knows to be important and many times the information you ask may have a deeper consideration involved.
She does not control the reading and neither do you! Spirit controls the reading so while she provides the message you must consider that the answer you seek may be an answer you don't want to hear or one of common sense you may have thought of yourself already.

Miranda will not make a decision for you, but she will give you things to consider while you face that decision.

Listen, learn, consider and act!
Peace, Love, contentment and purpose!
Education and Experience
Making predictions since she was six years old she has a natural born ability. She began reading Tarot at fifteen and has been reading professionally for over 25 years! She has also worked with domestic violence victims and has certificates in courses completed for sexual abuse and advocate for families.
Miranda Mae Tempest is unavailable ... but you can arrange a call back!



$3.99/min - First Time Callers get 3 Minutes Free!*
Read Miranda's Feedback! | Leave Feedback | Email Miranda