| | |
| --- | --- |
| | |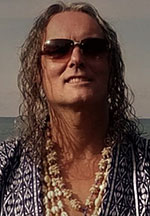 A rock star among psychics, born in the Scottish Isles and hailing from a family of mystics Utu brings a lifetime of medium-ship and magic to every reading. Psychic ability is not only in his blood but so is over 30 years of immersion in exotic tribal magic and divination honed at the side of shamans and witchdoctors alike ranging from Polynesia to Africa, South America to the Caribbean and New Orleans as well as his native Scotland. Utu's court of spirit guides will assist in a unique interactive experience for your reading that not only reveals the information you seek but suggested tips you can follow up with to help achieve your desires!
As an author, world famous tribal drummer, member of the New Orleans Voodoo Spiritual Temple and teacher of magic across North America who is routinely featured in global multi media, you have a literal metaphysical celebrity reader at your disposal who "divines for the diviners" with Utu.
Utu's methods are a combination of medium-ship, oracle cards designed by his tribal mentors as well as bones and shells that when combined with his guides interaction with yours, a detailed map of your roads and fates is revealed. It is one thing to know where your roads in life lead, but it is another to know how to navigate and appease them. Utu can help you seek divination for your future, information in the matters of love or lust, prosperity or protection, or how to begin your steps on the roads to success!

Education and Experience
Mentored in channeling and medium-ship, tarot and tea leaf reading, bones and shells since 1996, as well as initiated in witchcraft and voodoo.
A professional medium and reader since the year 2000.
Witchdoctor Utu is unavailable ... but you can arrange a call back!



$3.99/min - First Time Callers get 3 Minutes Free!*
Read Witchdoctor's Feedback! | Leave Feedback | Email Witchdoctor