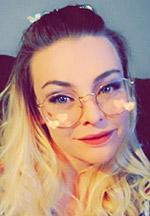 Satine's mission is to reach as many people as she can to help them heal and move forward with their purpose. "I feel so many people can benefit from having the knowledge and understanding of their own situations and destiny from spirits view."

Satine's Specialties: Tarot Readings Certified, Spells and Affirmations, Hypnotherapy Certified, Career Advice, Dream Analysis Certified, Psychic Reading Certified, Love & Relationships, Soulmates, Family Advice, Parents and Children, Cheating and Affairs, Breakup and Divorce, Channeling, Psychic Medium, Angel Reading, Spiritual Reading, Crystal Ball, Rune Stone, Automatic Writing, Occult Readings, Paranormal Phenomena, Mind Reading, Astrology & Horoscopes, Palm Reading, Numerology, Natal Chart Reading, Horoscopes.
Education and Experience
Credentials:
Satine has been tested and certified by different associations for her gifts she is a Certified Rieke Healer, Certified Psychic/Medium and Certified Chakra and Aura Healer. Satine has been working as a professional psychic for 9 years in person and online. Satine like's to be available as much as possible for her clients to build a strong relationship and get the guidance they need, when they need it!

Experience:
Since a very young age Satine always had premonitions and spoke to spirits. For a long time it was hard for her to understand why she had these gifts. But with time and growth her gifts became stronger and stronger. And before she knew it she was helping and healing everyone she touched. She has been professionally healing for 9 years. She receives all messages from Spirit and believes the tarot works through her as a vessel for others to receive the knowledge they need to better themselves. Come and consult with her today to see how she can benefit your life!
Satine Star is unavailable ... but you can arrange a call back!



$2.99/min - First Time Callers get 3 Minutes Free!*
Read Satine's Feedback! | Leave Feedback | Email Satine