| | |
| --- | --- |
| | |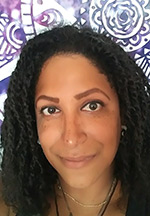 Bek is a gifted Clairvoyant and Oracle who talks directly to Spirit to pass on messages to those seeking counsel through readings and ritual. Her readings, along with her knowledge and skilled ability as a root worker, has enabled her to help many in finding answers, guidance, understanding, and healing in all areas of their lives; be it past or present circumstances or things in the future that have yet to manifest. She is a practiced dream interpreter and works with the spiritual messengers of her tribal Clan to bring clarity and insight to the information and communications the subconscious and spiritual world are trying to impart.

Bek Crow comes from a lineage of Medicine workers from both her African and Native bloodlines. Since she can remember, Bek was in attuned to the voice of Spirit and to the Medicines of the Earth. With guidance, she forged a strong relationship with her Ancestors that helped her embrace her path and purpose of being a servant to Spirit and of Service to those around her. It is through these teachings and communications that Bek understood our existence within ourselves, each other, and the spirits around us as a kaleidescope of connection, with a balanced and reflective web between our realm and the spiritual one that she is able to walk with and between. She views her relationship with the spirits and the gifts they have bestowed upon her with the upmost respect, and feels a great responsibility to honor them with purity of intent and purpose both personally and professionally.
Education and Experience
Bek Crow has been taught and initiated in the verbal traditions of medicine, ritual, and healing on her Native side, and is an initiated member of the Haitian Vodou religion, and is the daughter of Fok nan Pwen Bo Houngan. She is also an initiated Reiki Master directly of the oldest and originating lineage- Mikao Usui, and keeps the Usui Shiki Ryoho tradition and practice.
Bek Crow is unavailable ... but you can arrange a call back!



$3.99/min - First Time Callers get 3 Minutes Free!*
Read Bek's Feedback! | Leave Feedback | Email Bek