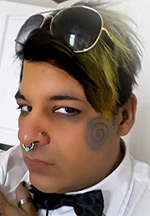 Gregg Sicari ( Wicked Witch Of The North ) will help you find the answers you are seeking in any matters you ask, including Love, Health, Money ,Career and personal issues.His readings are informative and precise as he talks with Spirit and Ancestor Guides. He will help you to craft spells to manipulate the energy in your life to guide you to move in the direction you desire.
Education and Experience
Gregg Sicari is The Wicked Witch of The North ,a spiritual intuitive and Clairvoyant, Ordained Minister and Cabot Priest. Attending The Cabot Kent Hermetic Temple and The Temple of Witchcraft
He has combined his Training in Witchcraft ,Hoodoo/ Conjure, New Orleans Voodoo, Brujeria, Santeria/Palo and stregheria developing his own Tradition Wicked Witchcraft.He has been studying The Occult and Witchcraft for 35 years and is currently working on publishing his own Book of Shadows and a collection of Majickal practices he has developed through his well known teachers and his personal guides .
Gregg Sicari is unavailable ... but you can arrange a call back!



$3.99/min - First Time Callers get 3 Minutes Free!*
Read Gregg's Feedback! | Leave Feedback | Email Gregg