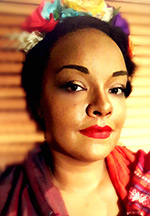 As a clairaudient Tarot reader Marie is a translator of the language of the images, she is a mediator between your unconscious and your conscious mind. She will draw a clear picture for you with the aid of her Spirit Guide and ability to translate the cards.
Marie's readings are honest and straightforward but always empathetic, loving and non-judgmental. She always values and is respectful of the confidence you put in her by opening up your concerns, worry, desires and hopes for the future.
Before you call please take a few cleansing breathes, close your eyes and focus on your brow chakra, otherwise known as your third eye chakra, allow feelings of peace, balance, connection to the Divine and a readiness for this experience to permeate your spirit.


Education and Experience
Marie has had clairaudient and clairsentient experiences since birth. She comes from a long line of gifted woman. She is in touch with her Spirit Guides. She has always actively research spiritual practices, such as, hypnosis, channeling and cartomancy. She has studied works from some of the great Spiritualists of our time and She has studied Tarot with a Master.
Marie has graduated with a degree in psychology "with distinction" and has completed a thesis. Her thesis addressed coping mechanism and Marie has come to believe guidance from Tarot can be a wonderful tool to do more than just anticipate the future but to help us cope, grow and thrive!

Marie Bruce is unavailable ... but you can arrange a call back!



$3.33/min - First Time Callers get 3 Minutes Free!*
Read Marie's Feedback! | Leave Feedback | Email Marie