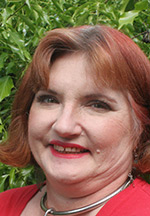 Liz Hazelmyer will describe images she receives regarding your question or life situation. If she is doing a tarot reading, she will describe and interpret the chosen cards in their order and position with regards to your question or life situation.
Education and Experience
Liz Hazelmyer has been doing this type of work since the mid-1990's. She has read at psychic fairs and events, over the phone and via chat and text. She is a Certified Hypnotherapist, having completed training at the Hypnosis Training and Research Center. Her instructors were Mary Lee LeBay and Kevin Hogan.
Liz Hazelmyer is unavailable ... but you can arrange a call back!



$3.99/min - First Time Callers get 3 Minutes Free!*
Read Liz's Feedback! | Leave Feedback | Email Liz