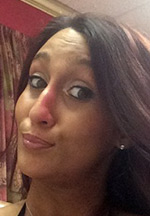 Anna is a gifted psychic tarot card reader with over 15 years experience. She specializes in love, finances, and family. Anna's psychic tarot readings will see into your past, present, and future, and will answer all questions accurately and honestly. Anna will not waste your time or your money - you have questions, you deserve answers! The answers you need and the advice you seek is just a phone call away.
Education and Experience
Over 15 years professional experience as a fourth-generation gifted psychic, Anna's gift has been passed down through many generations of her family's genealogy. She has a private practice where she has been performing psychic readings for many years. Her business is currently well-established in the state of New Jersey.

Anna Mitchell is available ... and ready to take your call!



$2.99/min - First Time Callers get 3 Minutes Free!*
Read Anna's Feedback! | Leave Feedback | Email Anna