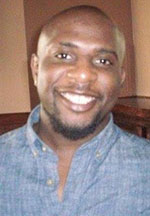 Sen Elias is a powerful seer with gifts that allow him to see the heart of every situation. He sees into the past, opens the way into the present and shows what is on the other side of the door to the future. When you need direction in any matter, including relationships, money, career and your overall path, Sen Elias is able to tap into the power of his spirits to find the answers. Sen Elias has a gift that not only provides answers but also solutions to issues that present a challenge. Have a question? Sen Elias will have an accurate answer!
Education and Experience
From a very young age, Sen Elias has been gifted with the ability to see into the past, present and future. He has been seeing and reading professionally for over a decade. Sen Elias has been sought out for his gifts of sight by many. His experiences from his childhood have fostered a gift that is truly unique!
Sen Elias is unavailable ... but you can arrange a call back!



$3.99/min - First Time Callers get 3 Minutes Free!*
Read Sen's Feedback! | Leave Feedback | Email Sen