| | |
| --- | --- |
| | |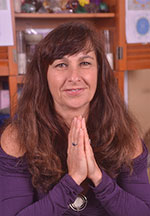 MI PRIMER LENGUAJE ES EL ESPANOL entonces si prefiere su sesiones en ESPANOL vea mas abajo:

Ms. Sonia Novick is a Trans-Channel, "The Avatar Group Consciousness" (Very similar to Esther Hicks in the movie and book The Secret who Channels Abraham.), an author, multidimensional life coach, mentor, and Internet Radio Show host personality with Spreaker.

I offer those open to great transformation and integration in personal or business affairs, ALL aspects of your life, providing stimulating and Awakening and assisting you with integrating your self into a state of inner peace, thereafter shifting your awareness into a grander consciousness of who you really are, and assisting you in reaching a heightened awareness in order to have your transformation and create your desired outcomes!

Services we offer:

1) Psychic reading: One-on-one body, mind, or spirit seeing of a client with express need for resolution of relationship, personal, health, career, finance, or other issues.

2) Channeling/Mediumship: Ability to act as a literal medium for disembodied personalities or spirits who bring forth messages through Sonic to benefit client in terms of closure, communication, or insight on personal or universal/global issues!

3) Remote Viewing: Literally like being a psychic detective, being able to see for client a love match, job opportunity, or other as-yet unattainable or unforeseeable thing or event that helps them achieve resolution.

4) Medical Intuitive: Like being a human MRI scanner into clients physical, mental, emotional, or spiritual health, and making diagnosis and program for treatment or cure.

5) Life coaching: A larger umbrella term for seeing into all aspects of a persons life and being able to see probability factors which aid client in gaining perspective and advantage where concerns health, career, relationship, finance, etc.


MI PRIMER LENGUAJE ES EL ESPANOL si prefiere su sesiones en ESANOL:
(AUNQUE ESTE SITIO DE WEB NO ME DEJA ESCRIBIR CORRECTAMENTE LA GRAMATICA EN ESPANOL).

Obtenga resolucion en asuntos personales, de negocios, todos los aspectos de la vida. Estimulando, dando realizaciones que cambie tu energia, asi tendra resultados diferentes en todas las areas de tu vida. Sonia con mas de 40 anos de experiencia psiquica exacta y brindandole mucho mas beneficios;

Una visionaria remota certificada,
Una psiquica precisa de animales domestico,
Medica intuitiva certificada,
Experta de las experiencias de la muerte (he vivido atravese de 2 experiencias de la muerte, donde yo me muri y me resucite aquei dos veces).
Experta de Medium de los espiritus,
Clarividente,
Claracentina,
Clairaudiente,
Coaching de vida certificada.

••• Puedo ofrecerle apoyo & respuestas en todos los aspectos de tu vida •••

Personal o empresarial, todas las areas. Proporcionandole mayor claridad en todo y cada una de tus preocupaciones o preguntas. Estimulando, dando realizaciones que cambie su energia, asi tendrs resultados diferentes en todas las areas de su vida.
Personal o empresarial, todas las areas.
Proporcionar una mayor claridad a todos y cada uno de sus preocupaciones o preguntas. Dandole, estimulando y despertando ideas que ayudaran a que cambie tu energia experienciando asi resultados diferente en todas las areas de su vida que trabajemos juntos!

Education and Experience
Sonia Novick

Silva Mind Control Institute, Graduate (Mexico City, Mexico) (1971).
Bachelor of Arts, Paris Academy of Art (Paris, France) (1979).
Neuro-Linguistic Programming Certification - Anthony Robbins Institute (1997).
Core Quantum Method Healing Energetics Certification (2003).
Managing Dir. of SoniaNovick.com and OBELLC (2007).
Ordained Minister and Dir of AVATAR GROUP UNIVERSE~CITY SOCIETY Ministry (2009).
Managing Dir. Living Sea Organics LLC, a health supplement company (2012).
Academy Of Remote Viewing & Influencing Reality, Graduate Certified RV-RI (2013).
Globally Certified Life Coach -Level -Expert- by Expert Rating (2016)
Director and Producer of Surfing the Cosmic Waves a live and interactive internet radio show where we explore our multidimensional, true and Divine Nature!
Author (signed copies available) at the website STORE and on Amazon -WE ALL GO TO HEAVEN When We Stop Creating Our Own Hell's.
Sonia Novick is unavailable ... but you can arrange a call back!



$4.99/min - First Time Callers get 3 Minutes Free!*
Read Sonia's Feedback! | Leave Feedback | Email Sonia