| | |
| --- | --- |
| | |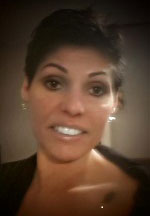 Bridgett was born with a rare psychic gift â€" a natural ability to communicate with Spirit Guides. Bridgett has the ability to see them, talk to them, and hear them when they speak. She is able to directly Spirit guides any questions you have about your life, and hear their answers when they reply. This is what makes Bridgett's gift so unique and a psychic experience of its own kind! Bridgett is a â€Å"spiritual vessel", or â€Å"voice-on-earth" for Spirit Guides.
During your psychic reading, Spirit guides will answer your questions â€" through Bridgett! Bridgett then relays back to you what they are telling her. Your Spirit Guides can accurately answer any questions or concerns you have, and they will help you solve any situation you may be faced with. Bridgett describes her gift like this â€"â€Å"Talking with Spirit Guides is very natural for me. The experience for me is the same as if you were just sitting and talking with a close friend â€" except no one but me can see or hear my friends."
Bridgett's rare psychic gift makes her different than just a regular psychic, because a regular psychic DOES NOT have the ability to talk directly to Spirit Guides. Only a person like Bridgett, who is born with the gift of mediumship can do this. When you call Bridgett she will only ask you whether you prefer a Psychic reading or a Tarot card reading, she will also ask you what you would like to focus on. The rest will be left to her ability and your Spirit Guides.You can expect a accurate and detailed reading guided from within your own being and translated by this gifted messenger.
Education and Experience
Bridgett Stephenson has over 29 years experience in psychic services. She is a certified Life Coach, She teaches meditation workshops across the US for the past 7 years. Specializes in Tarot and Psychic Readings
Bridgett Stephenson is unavailable ... but you can arrange a call back!



$0.99/min - First Time Callers get 3 Minutes Free!*
Read Bridgett's Feedback! | Leave Feedback | Email Bridgett