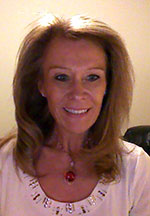 Looking for clarity in your life? Searching for a Soul Mate? Need help with your love life? Elizabeth is a very gifted intuitive psychic. She offers compassionate guidance and insightful psychic counselling. Distance viewing, past life readings, channeling departed loved ones and spirit guides are some of the ways she can clear your path on this life's journey. Whether you are seeking an answer to a simple question or guidance on a lifetime issue she is here with her amazing gifts to help you manifest your dreams.
Education and Experience
Elizabeth Ryalls is empathic and intuitive, with clauraudient and clairvoyant abilities. She is an expert on Spiritual Growth, love and relationships, soul mate connections,and career choices. She genuinely cares about people and wants the best for everyone. Her Guided Spiritual Insight is invoked to answer any questions you may have.
Elizabeth Ryalls is unavailable ... but you can arrange a call back!



$1.99/min - First Time Callers get 3 Minutes Free!*
Read Elizabeth's Feedback! | Leave Feedback | Email Elizabeth