The wisdom of the Tarot is presented below. You may want to save or print this page if you would like to ponder its wisdom later.
Past
Refers to recent events that just took place as well as influences and actions that lead to the present situation.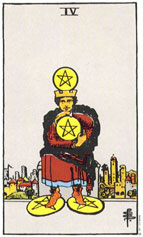 Four of Pentacles
The Four of Pentacles indicates that you achieved stability through reliance on material gain. You may have been blocking yourself from the world around you, symbolized by the character in the image who covers his head, heart, and feet with his wealth, protecting himself from interference from the outside world. What were you afraid of losing, so much that you hoarded everything you could? You have proven that you are adept at saving money, and you deserve the hard earned financial success you've won, but once in a while you must take time out to enjoy some of the bounty of your success.
Present
Represents what is happening right now. This may be what triggered you to seek out a reading or may represent something you're unwilling to see.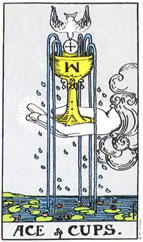 Ace of Cups
The Ace of Cups in your present situation suggests that you are experiencing a wellspring of emotions, especially love. Perhaps you are in the process of finding a new love interest, or discovering renewed feelings in a relationship you already have. The dove, representative of spiritual love, symbolizes the depth to which this emotional renewal is touching you. It has given you a new emotional perspective. The water flowing from the cup suggests that your emotional being (represented by the water below) is becoming recharged from this outpouring.
Future
Describes what is just around the corner. It's an official "heads up" about where the situation is heading.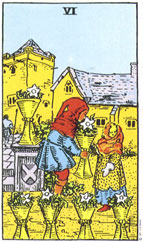 Six of Cups
Childhood memories, family gatherings, and friends from the past are all suggested by the Six of Cups. You may soon encounter a friend or lover from your past that you haven't seen in many years. The child bearing the flowering cup indicates the positive nature of this meeting. The pleasant home in the background is also a strong indicator of family and home. You may soon be spending more time with family and old friends. Celebrate your past. It is the foundation for your dreams and goals in the future.
We hope you enjoyed your reading. For a more personal analysis of your situation, call one of our gifted psychic phone readers below!
Samantha Jace is available!
Psychic spiritual Reader and advisor reunites lost love FIND YOUR SOULMATE NOW ... [see more]




$1.99/min -

First Time Callers get 3 Minutes Free!*

Shanti Skelly is available!
Tarot, tea leaves, intuitive, Medium ... [see more]




$4.99/min -

First Time Callers get 3 Minutes Free!*

Joy Light is available!
Psychic Medium, Spiritual Counseling on Love & Relationships, Healer ... [see more]




$4.99/min -

First Time Callers get 3 Minutes Free!*

Syrenity Jones is available!
No Frills * No Fluff * 99 % Accuract Answers *Non-judge mental *Caring ... [see more]




$2.50/min -

First Time Callers get 3 Minutes Free!*

Tommy Ross is available!
Professional Tarot Card Reader & Teacher - 16-Year Experienced! ... [see more]




$3.49/min -

First Time Callers get 3 Minutes Free!*

Oscar Brock is available!
Druidic Witch Oscar Brock can show you your heart's hopes and fears in the card ... [see more]




$3.99/min -

First Time Callers get 3 Minutes Free!*