The wisdom of the Tarot is presented below. You may want to save or print this page if you would like to ponder its wisdom later.
Past
Refers to recent events that just took place as well as influences and actions that lead to the present situation.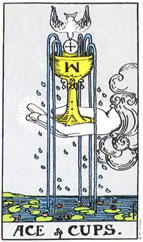 Ace of Cups
The Ace of Cups in your recent past indicates that recently, you have experienced a wellspring of emotions, especially love. Perhaps you have found a new love interest or have discovered renewed feelings if you are already in a relationship. The dove, representative of spiritual love, symbolizes the depth to which this emotional renewal has touched you. It has given you a new emotional perspective. The water flowing from the cup suggests that your emotional being (represented by the water below) has been recharged from this outpouring.
Present
Represents what is happening right now. This may be what triggered you to seek out a reading or may represent something you're unwilling to see.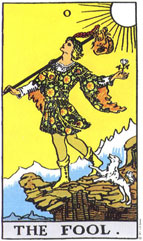 The Fool
The Fool is the first card in the Major Arcana, and is given the number zero to indicate that it is the very beginning—before everything. Many people misinterpret the Fool, believing its message to signify absurdity or moronic behavior. On the contrary, the Fool is a symbol of the Creator, the "All That Is", or however you envision deity. He symbolizes the trickster aspect of divinity: God's sense of humor, if you will. The Fool seems to be stepping off a cliff to certain doom. He turns his face and eyes upward, not noticing the fate that awaits. In his satchel, he has what little he needs for his journey. His companion, a little white dog, runs along at his heels. The dog can be seen as humanity's most extreme attitudes toward divinity: either seen as following blindly along, or lacking the firmness of belief necessary to take the step the Fool is about to make, and therefore, trying to hold him back.

The real message here is one of optimism. You must make a leap of faith, taking only the baggage that benefits you, with the ultimate trust that you will make it alright. The Fool encourages you to go beyond your boundaries, to work past your fears, and to believe that anything is possible.
Future
Describes what is just around the corner. It's an official "heads up" about where the situation is heading.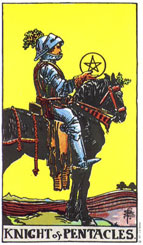 Knight of Pentacles
Frequently, the Knight refers to you, or someone who will strongly influence your life in the situation in question, but does not have to be male. The way the Knight of Pentacles sits upon his horse, upright, and the way his steed appears to stand, steadfast, epitomizes the essence of this card, and the person in question. He stares out beyond his pentacle, which can indicate that he will be so busy working that he will neglect or forget what he works for. The Knight of Pentacles signifies a person who will give his greatest effort in all he does, but may sometimes be so driven and so determined that he may lose sight of what matters most to him.
We hope you enjoyed your reading. For a more personal analysis of your situation, call one of our gifted psychic phone readers below!
Kydra Sommer is available!
Certified Psychic of 25 years, Gifted Chanelor, Energy Reader Em Path ... [see more]




$2.99/min -

First Time Callers get 3 Minutes Free!*

Syrenity Jones is available!
Certified Master Psychic with 30 years of 99 % Accuracy, Non-judge mental&Caring ... [see more]




$2.75/min -

First Time Callers get 3 Minutes Free!*

Anna Mitchell is available!
Special Price On Expert Love Psychic Tarot Card Reader and Spiritual Advisor ... [see more]




$1.99/min -

First Time Callers get 3 Minutes Free!*

Joy Light is available!
Psychic Medium, Spiritual Counseling on Love & Relationships, Healer ... [see more]




$4.99/min -

First Time Callers get 3 Minutes Free!*

Pandora Pappas is available!
Honest, fast answers here to get to the heart of matters with you ... [see more]




$4.99/min -

First Time Callers get 3 Minutes Free!*

Oscar Brock is available!
Druidic Witch Oscar Brock can show you your heart's hopes and fears in the card ... [see more]




$3.99/min -

First Time Callers get 3 Minutes Free!*

Tiffany Davis is available!
Psychic and tarot card reader ... [see more]




$3.99/min -

First Time Callers get 3 Minutes Free!*